Order form – Bestellformular
Book in English and German – Buch auf Englisch und Deutsch!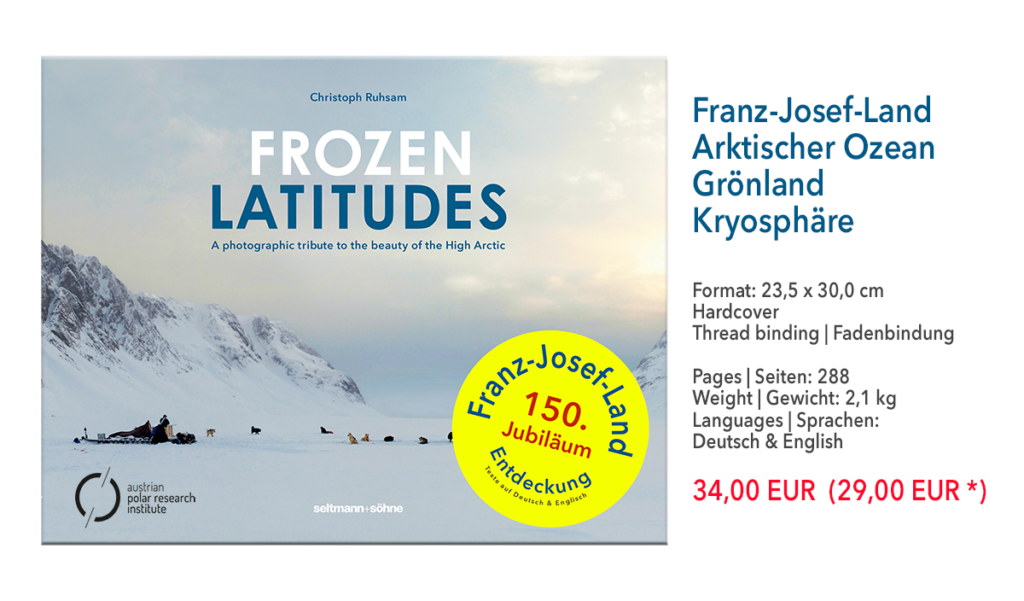 It's simple to order your book copy!

Just fill the order form above.
Payment of 34,- EUR/book plus shipping (* details see below) via Paypal or bank transfer upon receipt of the order confirmation.
I'll make sure to post your books worldwide within 2 working days.
* Order options:
You can save 5,- EUR/book if you enter one of the promocodes to support polar research with one of the following projects:
Shipment costs in EUR:
Austria: 7,-; EU: 12,-; non-EU: 15,-; Americas, Asia, Australia: 22,-
Frozen Latitudes can be also purchased in any book shop, through the online shop of Seltmann Publishers, Amazon, and others: ISBN 978-3-946688-40-2.
Your provided data will be solely used for the processing of your order and not given to a 3rd party. If you opted for the newsletter you will receive mails at irregular intervals and can opt-out any time.
So einfach bestellen Sie Ihr Exemplar:

Füllen Sie einfach das Bestellformular oben aus.
Zahlung von 34,- EUR/Buch zuzüglich Versand (* Details siehe unten) durch Paypal oder mittels Kontoüberweisung nach Erhalt der Bestellbestätigung.
Ich stelle sicher, dass die Bücher innerhalb von 2 Tagen weltweit versandt werden.
* Bestelloptionen:
Sparen Sie 5,- EUR/Buch indem Sie einen der Promocodes verwenden um wissenschaftliche Polarforschung zu unterstützen:
Versandkosten in EUR:
Österreich: 7,-; EU: 12,-; nicht-EU: 15,-; Amerikas, Asien, Australien: 22,-
Frozen Latitudes kann auch im guten Buchhandel, auf dem Online Shop von Seltmann Publishers, Amazon und anderen erworben werden: ISBN 978-3-946688-40-2.
Die bereitgestellten Daten werden ausschließlich zur Bearbeitung der Bestellung verwendet und nicht an Dritte weitergegeben. Wenn Sie den Newsletter bestellt haben erhalten Sie in unregelmäßigen Abständen ein Email und können sich jederzeit wieder abmelden.