FROZEN

LATITUDES
A Photographic Tribute to the Beauty of the High Arctic
FROZEN LATITUDES
… is a fine art photo book published at Seltmann and Söhne (Germany) presenting the beauty of pristine High Arctic landscapes. It is portraying the morphology of ice landscapes from some of the remotest places on earth in Greenland and Franz Josef Land (Russian Arctic). The bilingual texts in English and German tell stories about my first-hand experiences when ranging through the Arctic in search for Pure Landscapes. The internationally renown Austrian glaciologist and board member of the Austrian Polar Research Institute APRI Professor Wolfgang Schöner looks at the scientific perspectives of the Cryosphere and how it is affected by Global Warming.
Watch the Kickstarter campaign video
FROZEN LATITUDES is presenting rare panoramic views of the High Arctic solely formed by natural forces such as wind, water and ice. They are perceived as existing since the very early times of the Earth's Genesis. Animals and artifacts often appear unexpectedly in these landscapes and set accents that emphasize the vastness of the nature with its inherent impression of permanence. It is my photographic challenge to capture the everlasting natural changes which are hard to recognize by human scales.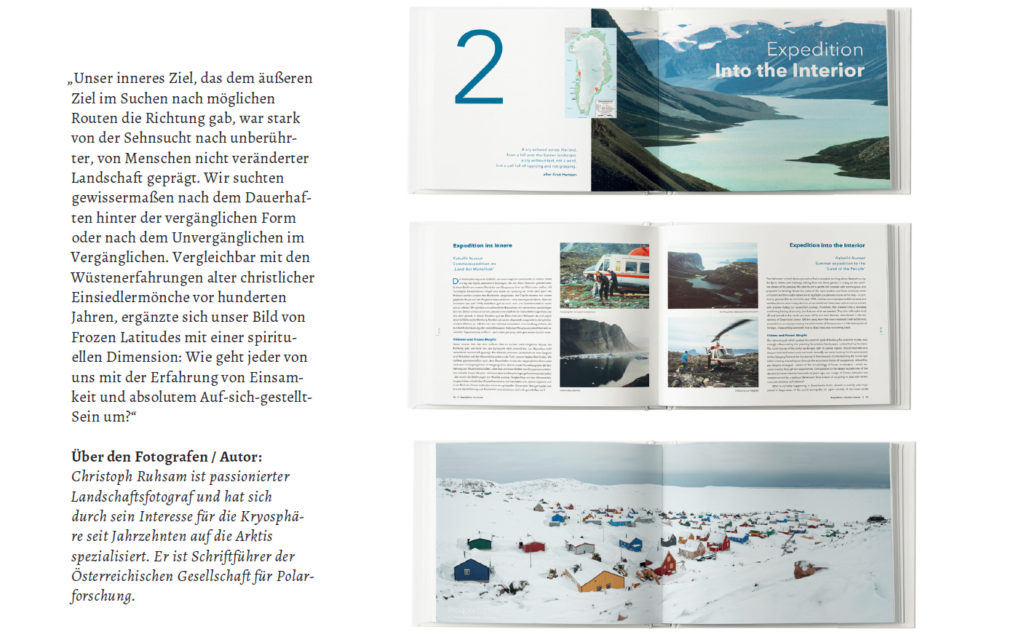 "Our inner goal, which gave direction to the outer goal in search for possible routes, was strongly influenced by the desire for pristine landscapes, untouched by humans. The aesthetics of the Arctic landscape, with its sparse nature, reduced to its essence should find room in the depths of our souls. Virtually, we sought for the permanent behind the transitory form or for the imperishable in the transient. Comparable with the desert experiences of the ancient Christian hermit monks hundreds of years ago, our image of Frozen Latitudes became complemented with a spiritual dimension: how will each of us deal with the experience of loneliness and absolute self-reliance?"

Cryogenesis describes the physical processes of repeated freezing and thawing of Earth' materials. Influenced by climate, earth-atmosphere interactions and the properties of the soils, it shapes the morphology of the landscape affected by permafrost which creates an unexpected variety of Frozen Morphs.

My photographic approach results from the compound words in Cryo-Genesis: photos of the cryosphere's landscape paint a picture of the earth's Genesis where landscapes are exclusively created and moulded by natural forces. These Frozen Morphs show the striking aspects of High Arctic landscapes and reveal the eternal in the transient. My photos highlight the incredibly beautiful landscape consisting of simple, naturally shaped forms which have been created over millennia giving the impression of a never changing existence. Human impact causes change at a much faster pace than these natural, slow processes, imposing unpredictable changes on these active natural forces. Due to climate warming changes have accelerated at an unprecedented pace over the past centuries which has lead to a continuous transformation of pristine Genesis-landscape into cultivated land.
"A truly brilliant work"
Oliver Seltmann – Germany
"Congrats, Christoph!"
Paolo Solari Bozzi – Swizzerland
"Thank you for a wonderful read and set of photographs. Thoroughly enjoyed the book."
Michael Canepa – Gibraltar
"Unsere kleine Eisbibliothek ist um einen großen Schatz reicher!"
B&B Wegener – Germany
"The pictures are beautiful and I want prints of some of them."
Chandler Hubbard – CA, USA

"The book of the year!"
Markus Trienke – Germany
"The photographs are simply stunning!"
Geoff Cowen – UK
"We looked through it, and everyone here was so impressed!"
Nansen Environmental and Remote Sensing Center – Norway
"Ich bin sehr beeindruckt von den Bildern und den authentischen Schilderungen und finde mich besonders beim sehr schön geschilderten Erleben des Jetzt wieder

."

Peter Gröll – Austria