Since decades (around 30 years), I travel to the High Arctic. Unlike the stay-at-home-theorists, I experienced this vast environment first hand for many times. Here is what I saw regarding the global warming effects. And sometimes, it breaks my heart to see the beauty fade.
We often traveled across the High Arctic by foot. During our sledge dog expeditions, we always have to keep in mind that there will be polar bears around. So, polar bears receive our full respect: as mammals of the sea. They live in the drift ice belts. And of course, they can become dangerous for us too.

On a lonely walk on a large ice-covered fjord, we suddenly spotted the tracks from two bears. A little nervous we asked ourselves if it was from a mother and its baby? At this moment, when you are in the middle of nowhere in the High Arctic, there comes just one thing to your mind: what are we going to do if we come across them? The dangerous part of the Arctic wildlife became obvious. Our attention sharpened immediately and I felt my pulse rising, although we knew that our guides Ooqe and Arqalo always carried rifles with them. Just in case. But to make it worse, the sledges with the rifles were out of sight in this situation. Back then, every hummock and snow drift looked like a bear track to me. So we increased our walking pace, which was difficult on the uneven, wind-shaped snow surface.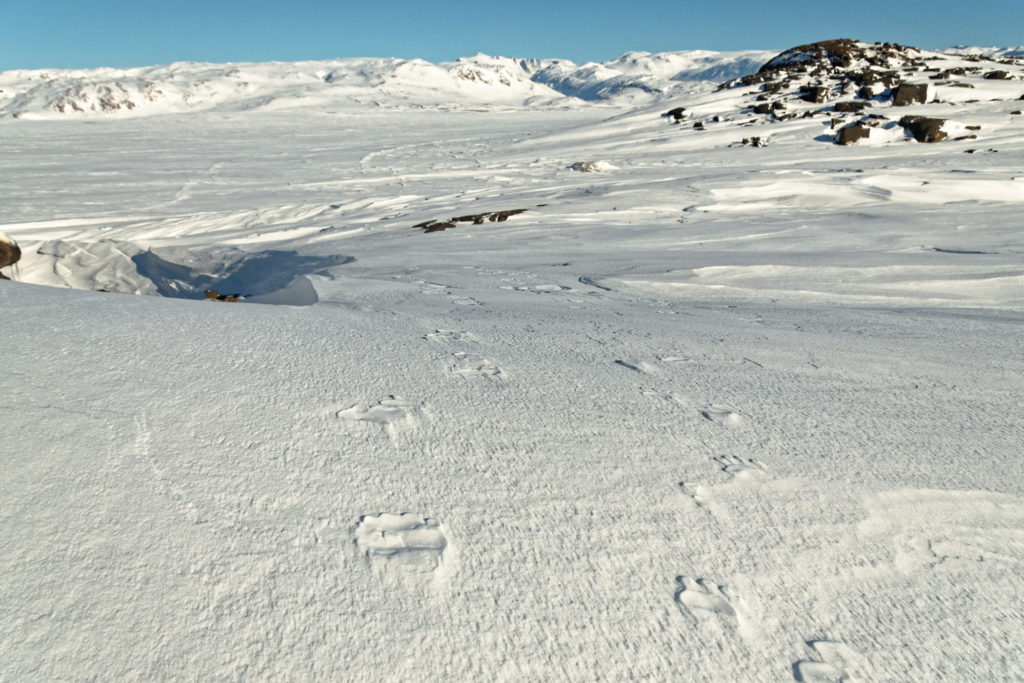 I started to sweat and took of my winter jacket. It is really no fun to be confronted with a possible attack from a wild polar bear, or even worse. I was asking myself if it would be enough to throw the overall at the bear? Would it give me enough time to reach the dog sledges, which were protected by the hunters? Most likely not, but that idea gave me some hope. I was remembering a situation, I approached a few days ago. A polar bear had approached one of the wooden hunting cabins and broke through the thick floor from below, to get to the dog food. He even smelt it through the plastic bags, and the sheer power of that animal left me in awe.
VIDEO: MY ARCTIC EXPEDITIONS
As we crossed the last island and spot the dog sledges in the distance, we felt finally secure. Ooqe and Arqalo looked carefully at the bear track photos we had taken and used their binoculars to scan the vastness: they spotted nothing. Ooqe and Arqalo told us that in the summer polar bears are more and more condemned to starve. They have to starve if they miss the last ice floe, when the ice retreats to a core area around the North Pole. From the sledges we once observed a young female bear with a scratch over her eye which probably marked a fight for food. Cannibalism between polar bears is increasing and is still under scientific investigation.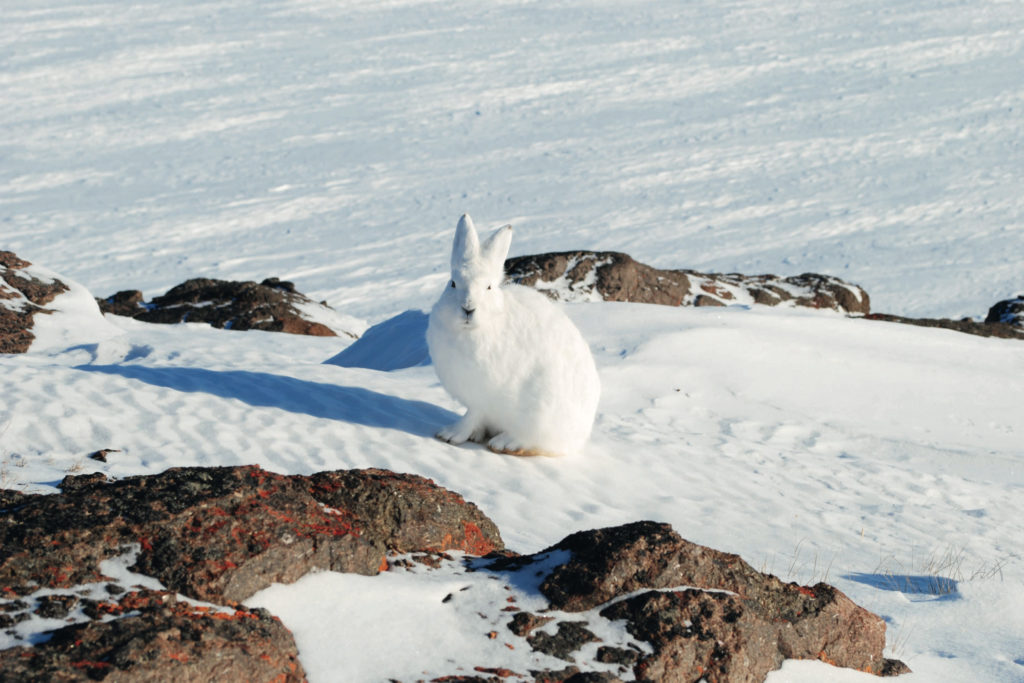 We continued our way on the dog sledges. The landscape appeared so vast and uninhabited around us. But that is as deceptive as it can be: in protected spots, plant tips look out from the snow. They are is a sign that there must be a sparse summer vegetation. Still, it is sufficient to provide a year's food supply for Arctic rabbits, lemmings, foxes and musk oxen. We got quite excited several times, while we watched pure white rabbits running across the snow. What is interesting is that in order to extract all the nutrients from the dry-frozen plants, they tend to eat their own excrements. Digesting it twice helps them against starvation. The mighty musk oxen dig below the layers of snow to access dried polar willow leaves and grass. The musk oxen excrement is proportionately small, compact as well as dark in winter, and we tend to find it at their resting areas. No comparison to their big summery excretions!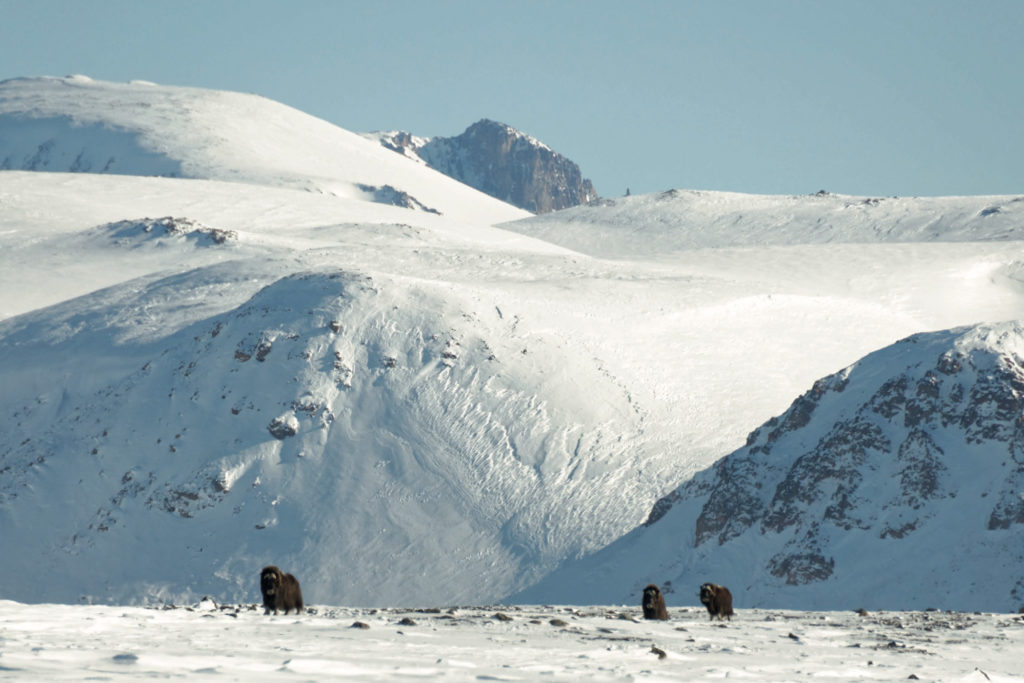 For us, it seems absolutely plausible that the food shortage makes it harder for animals to survice, as the Arctic pack ice is shrinking and reducing its rich food sources. There is enough light passing through the thick ice to generate food for plankton and algae in summer. This is the basis of the entire food chain: molluscs, small and large fish, sea birds, seals, whales and walruses, up to the polar bear. A major shift in this process is currently underway, with an uncertain outcome for all those animals affected.

One thing is for sure. As consumers of the large Arctic fish shoals, we humans will not only notice the Arctic warming by the shrinking of ice caps. Sometimes it's heartbreaking to see this beauty fade away – and this is why I want to raise awareness for the beauty of the High Arctic, which my photographic tribute book is about. It also contains an article about global warming, written by Professor Dr. Wolfgang Schöner, who is an internationally renown glaciologist and secretary of the Austrian Polar Research Institute APRI.
288 pages about 30 years of traveling to the High Arctic
320 stunning photos of people, landscapes and animals
Deep and touching first-hand experiences
Scientific expert chapter about the impact of climate change on the Arctic